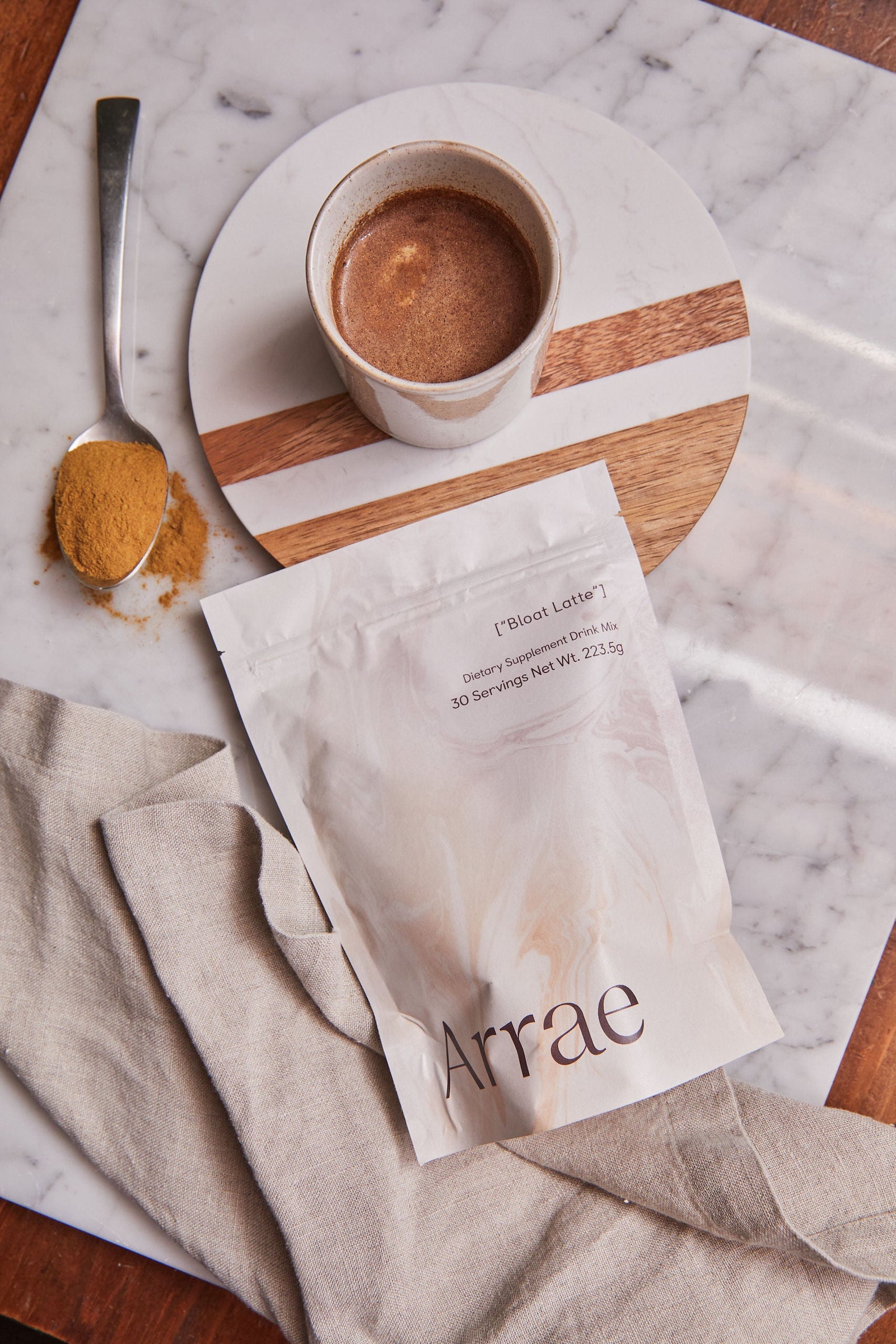 When temperatures go down and the leaves begin to fall, we all know that pumpkin season is just around the corner. That means pumpkin spice lattes (there's nothing like a hot girl walk with a PSL in hand), never enough fall-themed baking, and our favorite candles burning, their scent wafting through our home. 
Although, bloat doesn't come and go with the seasons; unfortunately, it happens all-year round. Bloat Latte will be your newest favorite fall edition, whether it's in your morning latte, your go to smoothie recipe, or even a fall favorite: pumpkin pie. 
Homemade Healthy PSL
Wake up in the morning knowing your pumpkin spice latte is waiting for you. Add in two tablespoons of Bloat Latte to pack a caffeine and debloat punch, all in one delicious cup. 
Ingredients: serves 1
8 ounces brewed coffee, or 1-2 shots of espresso

½ cup unsweetened vanilla almond milk or milk of choice

3 tablespoons canned pumpkin 

½ teaspoon pumpkin pie spice

½ teaspoon vanilla

2 teaspoons maple syrup, or sweetener of choice

Sprinkle of cinnamon

2 tablespoons Bloat Latte powder
Directions: 
In a cup or sauce pan, mix together almond milk and pumpkin. 

Cook on medium heat on the stove top or microwave for 30-45 seconds. 

Remove from heat, stir in vanilla, spices, sweetener and 

Bloat Latte

, place in a cup and use a frother to foam the milk. You can also use a blender — just process for 30 seconds or until foamy. 

Pour coffee into a large mug, add the foamy milk mixture on top. Sprinkle with cinnamon and enjoy!
Recipe from: Eating Bird Food
Apple Pie Fall Smoothie 
For a quick breakfast on-the-go or an afternoon pick me up, blending the following simple ingredients are perfect for a creamy, fall spiced smoothie that tastes just like apple pie. 
Ingredients: makes 2 smoothies
2 medium apples,

cored

1 cup milk, 

dairy or non-dairy

½ cup plain Greek yogurt

1 teaspoon ground cinnamon

¼ teaspoon ground nutmeg

Pinch of ground cardamom

Honey or maple syrup (optional, to sweeten)

4 tablespoons Bloat Latte powder
Directions: 
Place all ingredients into a blender and blend until smooth and to your desired consistency.

Taste and add some honey or maple syrup if more sweetness is desired.

Pour into tall glasses, sprinkle with some cinnamon, and enjoy!
Recipe from: Ahead of Thyme
Homemade Pumpkin Pie
Last but not least, the most classic fall dish: pumpkin pie! A homemade shortbread crust adds a flaky texture, making it the perfect foundation for an incredible pie. 
Wow your friends and family with this recipe, knowing you're providing some delicious debloat, too. 
Ingredients: serves 8
1 ⅓ cups pumpkin puree

1 14-ounce can sweetened condensed milk

2 eggs - slightly whisked

1 ¼ teaspoon ground cinnamon

3 teaspoons pumpkin pie spice

½ teaspoon salt

1 homemade shortbread pie crust

1 egg - whisked

2 tablespoons Bloat Latte powder

coarse sugar - optional

optional toppings: chopped nuts, whipped cream
Shortbread Pie Crust
3 cups flour

½ teaspoon cinnamon

2 teaspoons sugar

1 teaspoon salt

1 cup salted butter - cold, cut into ½-inch cubes

⅔ cup cold water

2 teaspoons apple cider vinegar

ice cubes
Directions: 
First, preheat the oven to 425 degrees. Prepare the crust as written below.
For the Crust

:
In a food processor combine flour, sugar, salt, and cinnamon and pulse several times. 

Add butter cubes and pulse until mixture resembles coarse crumbs. 

In a liquid measuring cup combine water, vinegar, and enough ice cubes to reach 1 cup. 

Add liquid to the flour mixture (strain the ice so that it stays in the measuring cup) 2 tablespoons at a time, pulsing after each addition, until mixture resembles streusel (it will not come together like a dough, it will be somewhat dry but should stick together when you smoosh some of it between your fingers). 

Shape dough into a ball with your hands. Divide in half and place each half on a large piece of plastic wrap. Pat into a 1/2-inch thick disc and wrap tightly in plastic wrap. Place in the freezer for 20 minutes. 

Roll each disc into a 12-inch circle. Gently shape one into the bottom of a 9-inch pie dish . Fold the overhanging dough back toward the center of the dish and crimp edges with your fingers to make the crust.
For the Filling: 
In a large bowl mix together pumpkin, sweetened condensed milk, and eggs. Add cinnamon, pumpkin pie spice, salt, and 

Bloat Latte

and stir well. Pour into the prepared crust.

Brush crust with egg wash. 

Bake on the lowest rack for 15 minutes at 425 degrees, then change oven temperature to 350 and bake 35-40 minutes longer. Pie is done when the crust is browned and only the center of the pie jiggles when you lightly shake the pan. 

Allow to cool on a cooling rack to room temperature or cover and chill up to 2 days. When ready to serve, allow to come to room temperature and serve with chopped nuts and whipped cream if desired.
Recipe from: Le Creme de La Crumb
This blog post is purely informational and does not imply any evaluation by the Food and Drug Administration. This blog post is not intended to diagnose, treat, cure, or prevent diseases, nor should it substitute for advice from a healthcare professional.