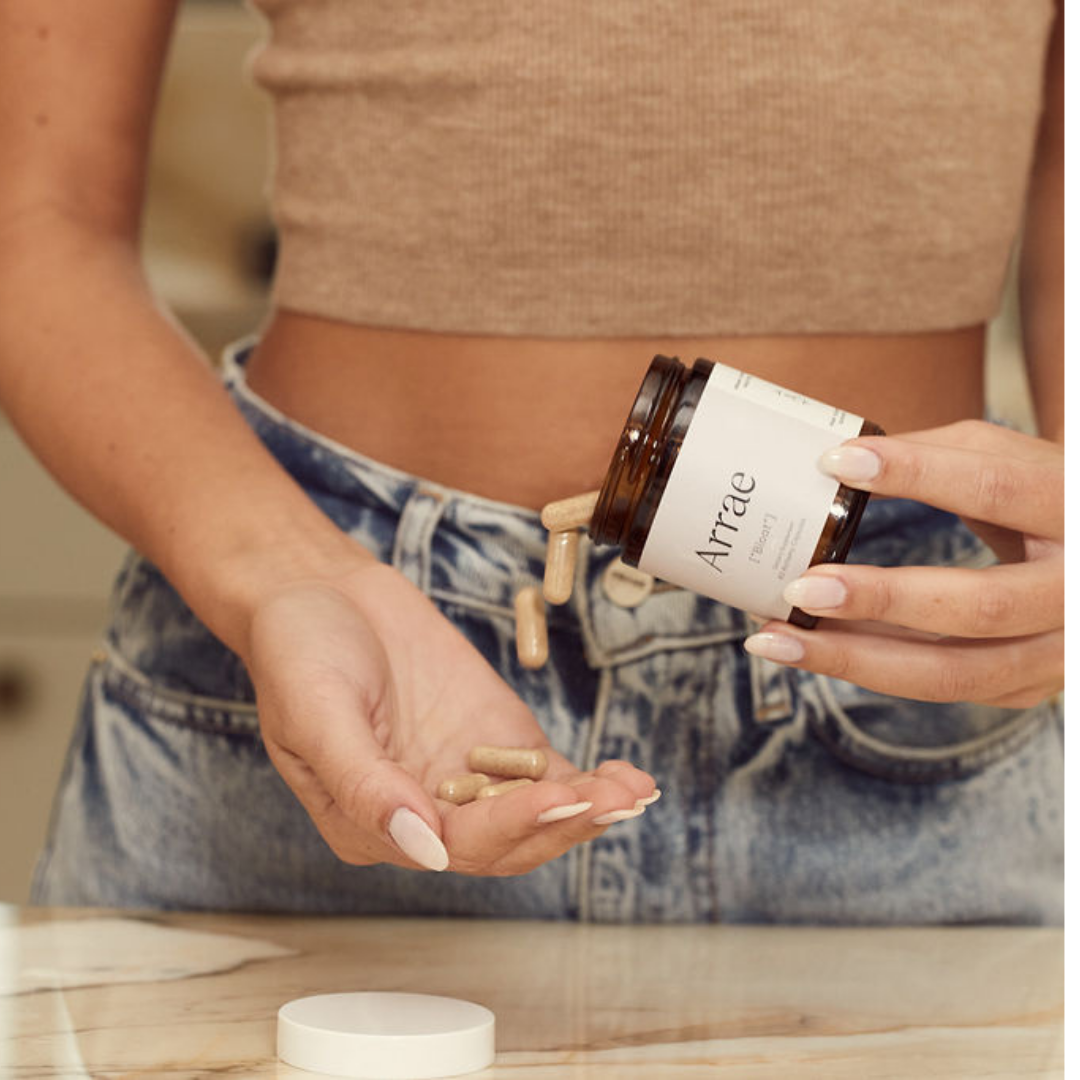 Even with a perfect wellness routine, keeping active, and the eating mindfully that we do, sometimes bloat likes to creep back in, just to remind us that it's still there. From hydrating properly, eating all things nutritious, and moving our bodies, bloating, unfortunately, is something we can't hide from for very long. Whether it's the pizza you ate last night or the cocktails you indulged in (hey, we do it, too!), waking up in the morning feeling not-so-hot is one of the worst feelings, ever. We know logically that bloating happens to everyone, but the dip in confidence and eagerness to pop on a pair of sweatpants heightens when we aren't feeling our absolute best. However, your mind shouldn't jump to a 3-day juice cleanse or a vow to skip your next dinner out with friends. 
You might think that skipping breakfast will help get rid of that food and/or alcohol baby, but studies show that doing that can be disastrous on your blood sugar, and therefore mood, prompting you to eat more later on in the day. Instead of opting for a bacon, egg, and cheese, choose foods that nourish your body, leaving you feeling radiant from the inside, out. Eating nutrient-dense foods, even when you're bloated, will kickstart your metabolism, banishing bloat and leaving you feeling a whole lot better. Better yet, most of these foods are probably already in your kitchen. So, get yourself up and out of bed, and make breakfast! This is a surefire way to set yourself up for a positive rest of your day. Here are some recipes, using our favorite de-bloating foods, to say bye-bye to gas and get you back to feeling great. 
Anti-Bloat Smoothie

. Using ingredients like bananas and coconut water, this smoothie is a refreshing way to fight bloat.  
Ingredients: 
1/2 cup coconut water

1 banana

1 large cucumber, sliced

1 inch piece of fresh ginger, peeled and sliced

handful of ice
Directions:  Just combine the above, blend, and enjoy! 
Omelette

. We love eggs and their versatility. They're super easy to make and are full of protein and healthy fats, ensuring you start your day off right! Try this omelette, adding in any veggies of your choice for a simple, nourishing meal. 
Ingredients:
2 eggs

2 cups of arugula

4 cherry tomatoes, sliced

1/2 an avocado, chopped

1 tablespoon fresh coriander, chopped (optional)

sea salt

fresh cracked black pepper
Directions:In a pan cook your eggs to your preference (scrambled, fried, poached...) Then, season with sea salt and fresh cracked black pepper while cooking. Place arugula on a plate, add cooked eggs, avocado, tomato, and coriander. 
Oats.

Oatmeal is a hearty and delicious breakfast choice. Full of fiber to keep you full and with the option of adding turmeric and ginger to maximize its de-bloating effects, oats are a quick and easy way to manage bloat.

Try this recipe

: 
Ingredients: 
1/2 cup gluten free quick cook oats

2/3 cup almond, oat, or coconut milk

1/2 teaspoon turmeric powder

1/2 teaspoon cinnamon

1/4 teaspoon ginger
Directions: 
Combine oats and coconut milk in a microwave safe bowl and microwave for 1 minute.

Mix in turmeric, cinnamon and ginger.

Top with whatever you please! This could be fresh or dried fruit, nuts, or a nut butter. 
Don't let bloat get the best of you! We all experience it from time to time, but trying out one of these recipes the next time you wake up with a little extra pouch will get you feeling better and able to take charge of your day ahead. Even better, add 2 Arrae Bloat capsules to your breakfast, really highlighting that it's the most important meal of your day! Watch and feel your bloat disappear in no time. Bon appetit! 
Disclaimer: This blog post is purely informational and does not imply any evaluation by the Food and Drug Administration. This blog post is not intended to diagnose, treat, cure, or prevent diseases, nor should it substitute for advice from a healthcare professional.