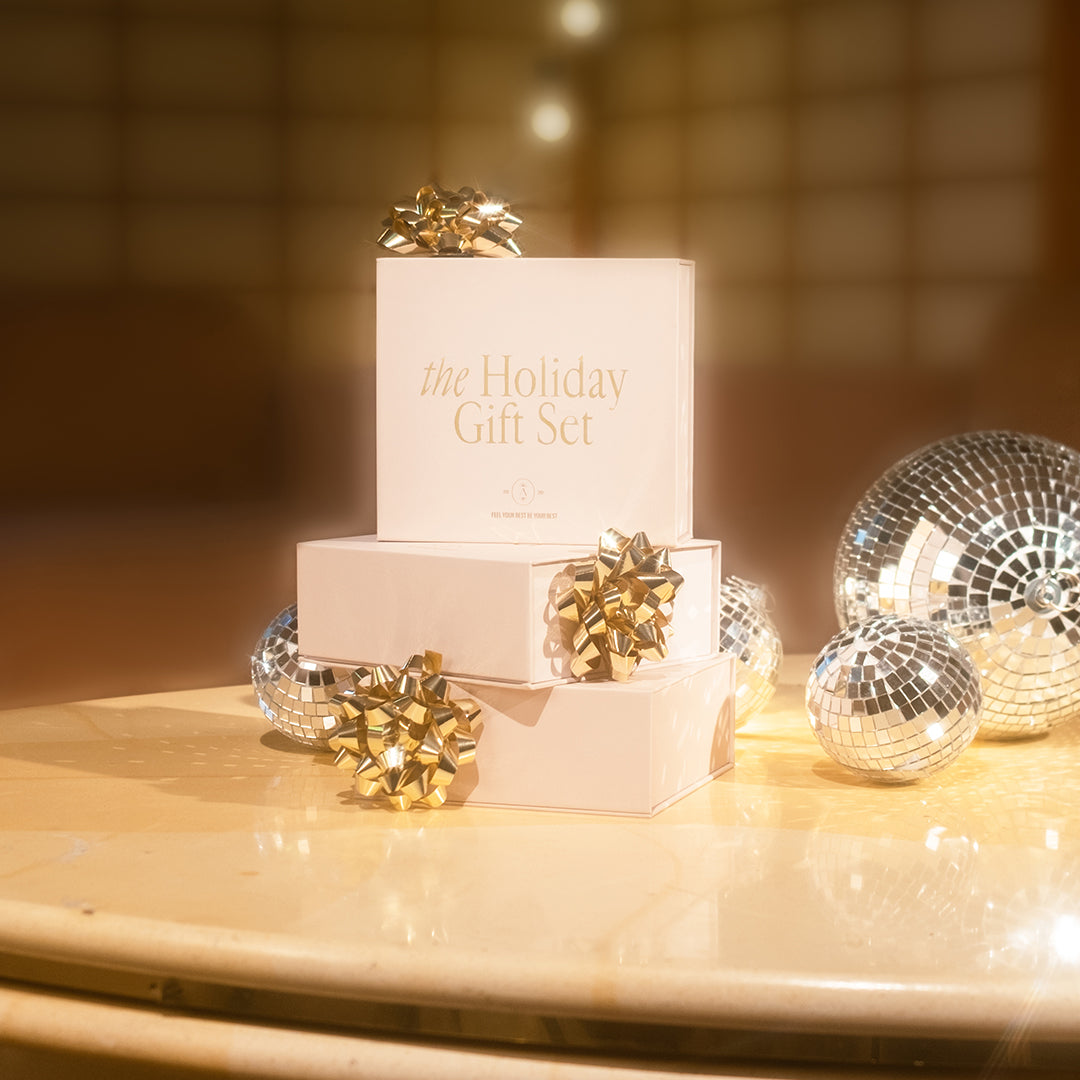 The holidays are right around the corner, and we're so excited to introduce the Holiday Gift Set! At Arrae, we believe gifting should be personal and speak to who you're giving it to. It's not a "one size fits all" situation, which is why we created three unique gift sets - each bundled with a curated selection of our top-ranked, 100% natural supplements that are tailored to you and your bestie's unique archetype.
Want to find out which box to add to your wish list? Take the quiz below and keep track of each letter choice you answered to discover whether you're the Ultimate Foodie, Frequent Flyer, or Social Butterfly! 
 1. What does your typical Friday night look like?
A. Booked a Resy at the hottest new restaurant
B. Packing your bags for a spontaneous weekend getaway
C. Mixing and mingling at the new local bar
2. Which is your dream OOO vacation?
A. Italy - for the amazing pasta, pizza, and gelato
B. Japan - to explore its rich tradition and culture
C. Ibiza - for its beautiful beaches and vibrant nightlife
3. You're known among your friends for always...
A. Throwing the best dinner parties
B. Knowing the best travel hacks
C. Having all the weekend plans
4. What is your go-to conversation starter?
A. "Have you tried any new restaurants lately?"
B. "Where's your favorite place you've traveled to?"
C. "What's the best place in the city for a GNO?"
5. What's your ideal lazy Sunday?
A. Strolling through the farmer's market to stock up on local ingredients for the week
B. Grabbing a coffee and mindlessly exploring new spots in your city
C. Rounding up your friends to try out a new yoga class
6. If you could master any skill, which would you choose?
A. To cook any dish without needing to follow a recipe
B. To quickly pick up any foreign language
C. The charisma and poise to capture any audience
7. If you could take a masterclass from anyone, who would it be?
A. A renowned chef
B. A world traveler
C. An event planner
8. You get most excited about…
A. Landing a table at that impossible to-get-a-reservation at restaurant
B. Scoring a last-minute deal on a flight
C. An invite to an exclusive VIP event
9. Your ideal date would be…
A. A private cooking class for two
B. Driving outside the city for a romantic weekend getaway
C. Hitting happy hour at the hottest bar in town
10. What's on your shopping wishlist?
A. The cutest vintage china set to display in your kitchen
B. A luxury carryon that fits all your travel essentials
C. A pair of designer heels that pair with any outfit
Mostly A's: The Ultimate Foodie 
If you answered "A" to most of the questions, then congratulations you culinary connoisseur - you're the Ultimate Foodie!
As the Ultimate Foodie, you're more than just a lover of good food - you're a tastemaker in every sense. You appreciate the joy of culinary masterpieces, whether it's a five-course meal at a Michelin restaurant or a warm, homemade comfort meal that would impress Gordon Ramsey himself. 
But for you, it's not just about the food, it's about the experience - the farm-to-table journey, the intricate mix of flavors, the lively convos that flow around the table. You have a zest for life and aren't afraid to push the boundaries in your quest for the perfect palate pleaser. 
Your personality is as rich and layered as your favorite chocolate cake. You're passionate, creative, and love bringing people together. You understand that food is a universal love language, and you use it to create memorable experiences. There's no doubt that with your discerning taste and infectious enthusiasm, you're the guest of honor at every dinner party.
Your creativity doesn't stop at the cutting board, but enthusiastically spills into your work. You effortlessly blend ideas to whip up effective solutions in the workplace - and your coworkers admire the unique zest that you bring to the table.
Our Recs for the Ultimate Foodie:
TV Show: The Bear (Netflix)

Movie: Julie and Julia

Book: The Tummy Trilogy by Calvin Trillin

App: Beli for ranking all of your favorite restaurants
Plus, we whipped up the Ultimate Foodie Gift Set so you can savor life's little moments, one bite at a time. Here's what's on the menu: 
1. Mini Arrae Heartburn: Relief is officially on the menu with our Heartburn capsules, designed to keep acid reflux, indigestion, and heartburn at bay. Dish out at all the foodie hotspots and leave the heartburn at home.
2. Mini Arrae Bloat: Dive fork-first into all your festive faves without any regrets. Our Bloat Capsules help to break down common food-triggers so you can kiss post-meal bloating goodbye.
3. Limited Edition Pill Box: Our new pill box makes managing your wellness just as easy as making a reservation. Plus, it's cute enough to show off at brunch. Practical and pretty - just like your favorite gourmet dish.
Shop The Ultimate Foodie Gift Set
Mostly B's: The Frequent Flyer
If you scored B's on most of your answers, then you've landed yourself the title of the Frequent Flyer!
Born with a suitcase in hand and adventure in heart, you're constantly on the move - from chasing sunsets, to seeking out hidden gems in bustling cities, to experiencing cultures that broaden your worldview. Travel isn't just something you do - it's a part of who you are.
Your passport has more stamps than a post office, and you have all the hacks to navigate every airport and subway map. Home is everywhere and nowhere at the same time, and your adaptability enables you to make the best out of any situation you're in.
But, being the Frequent Flyer isn't just about the miles you've collected. It's a testament to your curiosity and wanderlust spirit. You view the world through a unique lens, finding beauty in the unconventional and stories in the unexplored. No culture is too complex, and no language has its barriers. Your magnetic personality not only attracts the unknown, but thrives in it.
You're known for bringing a unique perspective to the workplace. You're a pro at multitasking, handling projects with precision and creativity. Your diverse experience makes you a valuable player on any team - inspiring those around you to tap into their adventurous side and step outside their comfort zone. 
Our Recs for the Frequent Flyer:
TV Show: Emily in Paris

Movie: Wild

Book: The Alchemist by Paulo Coelho 

App: Skyscanner for finding flight deals
The Frequent Flyer Gift Set has been carefully curated to meet your on-the-go lifestyle. Here's what's on the itinerary:
1. Mini Arrae Calm: Who says traveling needs to be stressful? Ease the inflight jitters and airport anxieties with Calm - your Zen travel buddy to help you shake off any tension and stressors. Sit back, relax, and enjoy the ride!
2. Mini Arrae Bloat: No more post-flight bloat. Arrae Bloat is your go-to travel essential that reduces gas, bloating, and tummy troubles - so the only irregularity is what city you're in.
3. Limited Edition Pill Box: Never miss a beat (or a Bloat) when you're on-the-go. Throw this chic travel accessory in your carryon to keep your supplement routine in check, no matter how far you are from home.  
=
 Shop The Frequent Flyer Gift Set
Mostly C's: The Social Butterfly
Raise a glass for mostly C's - because you're The Social Butterfly!
You're the life and soul of every gathering. Late-night parties, brunch get-togethers, happy hours - you're not just at the event, you ARE the event. Conversation flows freely, laughter fills the room, and memories never stop being made when you're around. 
With your outgoing nature, you have an aura that makes anybody you talk to feel special. Fluttering from group to group with charm and authenticity, your grace goes beyond just 'making an entrance.' You're the kind of person people lean in to listen to, and are bookmarked in everyone's contacts as the ultimate insider.
As the Social Butterfly, you're vibrant, vivacious, and undeniably radiant. Your personality sparkles like your favorite sequin dress, and your energy is infectious - always lifting the spirits of those around you. 
But your way with people doesn't stop on the weekdays. You're the heart of the office hallways and the first to remember all of your coworkers' birthdays. You excel at networking, effortlessly turning casual encounters into professional contacts. You're a team player and natural leader - whether it's pitching collaborative ideas or cheering on your colleagues, the office is never boring when you're around.
Our Recs for The Social Butterfly:
TV Show: Gossip Girl

Movie: The Great Gatsby

Book: "Big Magic" by Elizabeth Gilbert

App: Lemon8 - the perfect lifestyle app that's like a mixture of Instagram and Pinterest
The Social Butterfly Gift Set is bundled with all the goodies to compliment your busy lifestyle, and wrapped up in a box as chic as you. Here's what's on the agenda: 
1. Mini Sleep: A 100% natural blend to make sure you get the beauty rest you need. Wake up feeling ready to conquer the next day without the brain fog or morning drowsiness - no matter how long the party goes on.
2. Mini Bloat: Soak in all the late-night bites, sips, & songs with our holistic formula that works in under an hour to reduce bloating and optimize digestion.
3. Limited Edition Pill Box: Like that go-to clutch that never leaves your side, keep your supplement regime at your fingertips, even when you're out on the town.