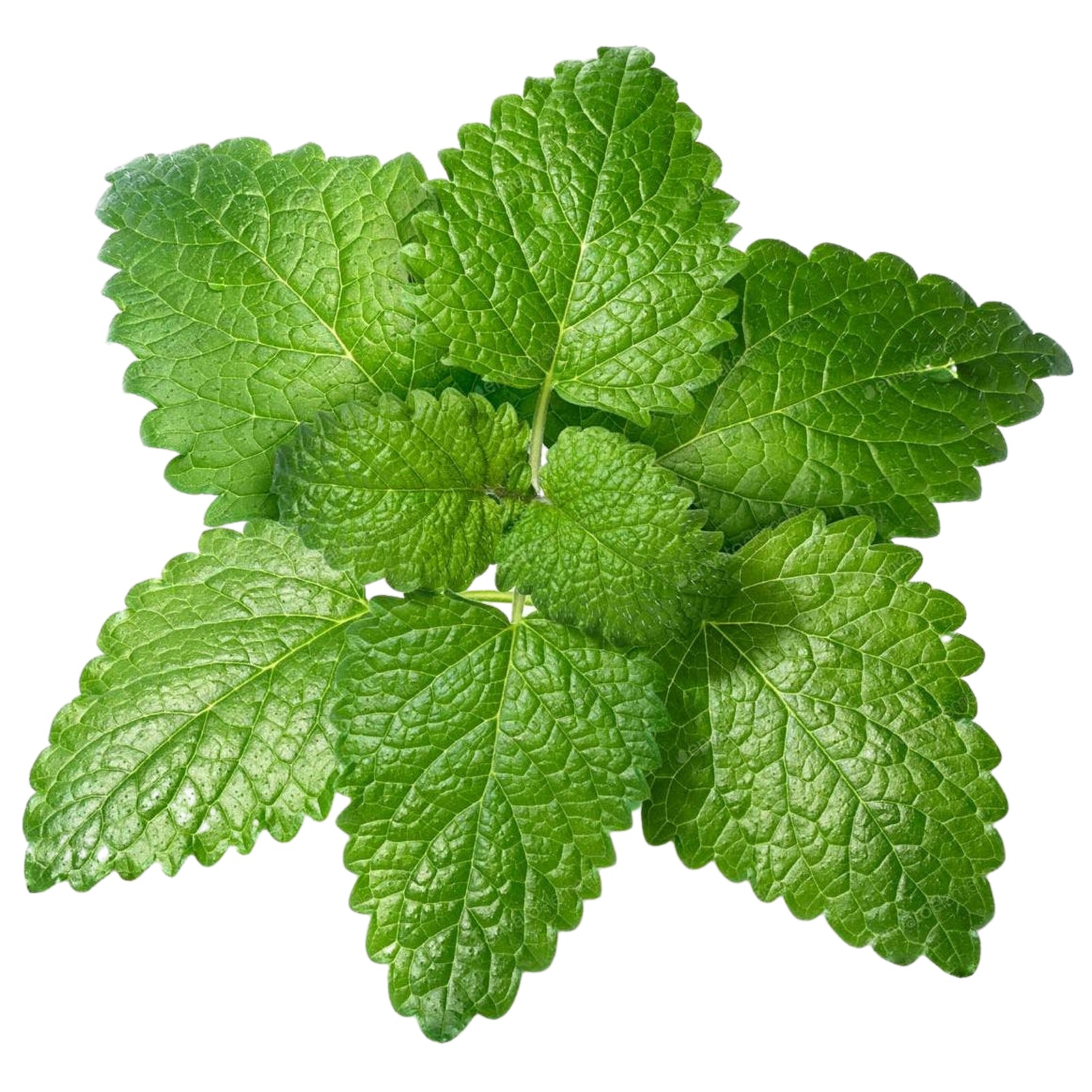 Botanical Name:Melissa officinalis L. 
Common Uses:Gastrointestinal Issues, Mood Disorders, Cognitive Function, Insomnia
The leaves of lemon balm, a perennial lemon scented herb, are not only used in cooking for their citrus flavor, but also in medicine for their relaxing effects on the nervous system. 
Traditional Use:
Lemon balm has long been admired around the world for its extensive medicinal properties. Evidence of the belief in the healing potential of this herb is seen during the 15th century, when Paracelsus, a pioneering Swiss physician, stated that lemon balm should be administered for "all complaints supposed to proceed from a disordered state of the nervous system" (Scholey et al., 2014).Given the vast range of conditions associated with the nervous system, the calming effects of lemon balm have been traditionally used in many applications including as a sedative or for gastrointestinal support. Overall, the health benefits of lemon balm are associated with its carminative, antioxidant, antimicrobial, memory-enhancing, and antispasmodic properties. 
Research Overview:
Modern scientific findings have affirmed the therapeutic benefits of lemon balm. Phytochemical research has found that the leaves of lemon balm contain significant amounts of flavonoids including rosmarinic acid, gallic acid and phenolic compounds such as citronellal and neral. These active constituents function synergistically, achieving a calming effect on the nervous system. 
Research has investigated the effects of lemon balm on digestive health and intestinal motility. The European Medicines Agency has acknowledged lemon balm to be an effective remedy for bloating and flatulence. Additionally, oneex vivo study on the effects of lemon balm on the gastrointestinal tract of mice has shown extracts of this herb to be effective in reducing the frequency of contractions occurring specifically in the jejunum and ileum. 
Another research study has found that the essential oil in lemon balm has a high acetyl cholinesterase inhibitory capacity and functions as a powerful antioxidant. This study showed that extracts from lemon balm leaves are capable of scavenging free radicals in the body, especially DPPH. This suggests the ability of lemon balm to improve or prevent diseases related to oxidative stress. 
Interesting Fact: In vitrostudies and clinical trials have highlighted the antimicrobial potency of lemon balm, showing it to be an effective treatment for skin lesions caused by theherpes simplexvirus. 
Sources: 
"The Central Nervous System." Fundamentals of Pharmacognosy and Phytotherapy, by Michael Heinrich et al., Third ed., Elsevier, 2018, pp. 274-275.
Miraj, Sepide, et al. "Melissa Officinalis L: A Review Study With an Antioxidant Prospective."Journal of Evidence-Based Complementary & Alternative Medicine, SAGE Publications, July 2017
Scholey, Andrew, et al. "Anti-Stress Effects of Lemon Balm-Containing Foods."Nutrients, MDPI, 30 Oct. 2014
Aubert, Philippe, et al. "Basal and Spasmolytic Effects of a Hydroethanolic Leaf Extract ofMelissa Officinalis L. on Intestinal Motility: AnEx Vivo Study."Journal of Medicinal Food, Mary Ann Liebert, Inc., Publishers, July 2019