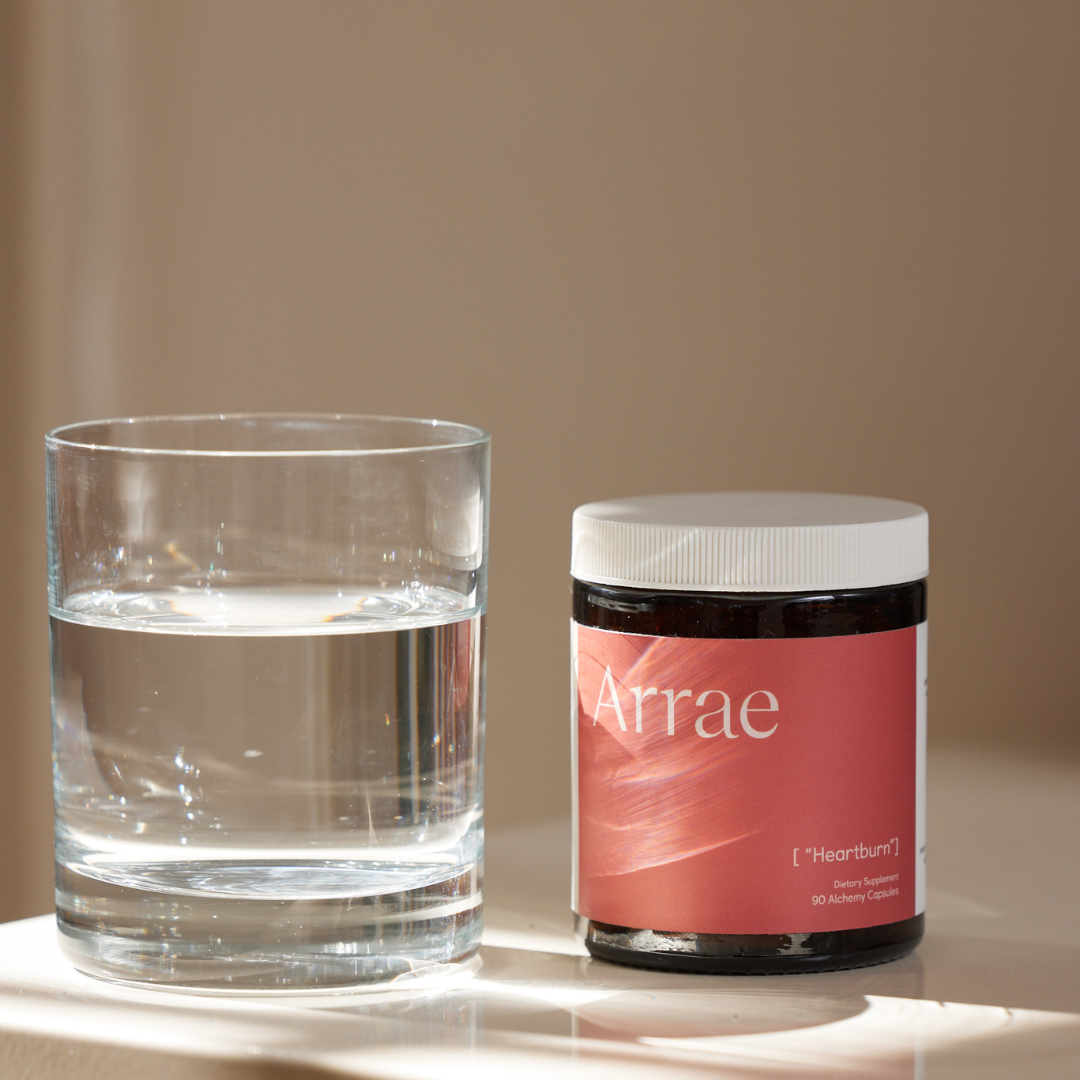 Imagine this: You're enjoying a favorite meal, sipping on a cocktail or mocktail, and sitting around the table with friends when all of a sudden, a burning sensation in your chest starts creeping in. You're no stranger to this feeling; in fact, it happens after most, or every, meal! 
While occasional heartburn may come and go with no impact on day to day life, chronic heartburn after every meal definitely rings some alarm bells. It may mean a necessary change in lifestyle, changing foods in the diet, or adjusting pre and post meal routines. However, sometimes we all could use a little extra help in the form of an all-natural, good-for-us supplement. 
Welcome, Heartburn. 
Keep reading to learn more about what causes heartburn, discover the ingredients and their benefits in our Heartburn capsules, and learn why Heartburn is more effective than conventional antacid brands.
What is Heartburn? 
Before we get into the specifics on our product, let's simplify some science first. Heartburn occurs when stomach acid backs up into the esophagus, the tube that carries food from the mouth into the stomach. Usually, when food is swallowed, a band of muscle around the bottom of the esophagus, called the lower esophageal sphincter, relaxes to allow food and liquid to flow down into the stomach. Once food arrives, the sphincter tightens back up again to ensure that no unwanted particles flow into the stomach. But, if the lower esophageal sphincter isn't working as it should, stomach acid can flow back up into the esophagus; this is more commonly known as acid reflux. As a result, heartburn occurs. 
Some common symptoms include a burning pain in the chest after eating or at night, pain that worsens when lying down (especially after a meal) or bending over, and a bitter or acidic taste in the mouth. 
The Risk Factors for Heartburn
While every individual's physiology is different, there are certain foods and drinks that are known to increase the risk of heartburn. While it would be difficult to completely eliminate these all from the diet, it's worth tracking your intake of these foods and whether or not heartburn is experienced after having them. 
These include: 
Spicy foods 

Onions 

Citrus foods, like lemons

Acidic foods, such as ketchup and balsamic vinegar

Fatty or fried foods 

Peppermint 

Chocolate 

Alcohol, coffee, caffeinated beverages, and carbonated beverages 

Large meals 
Heartburn by Arrae 
More than 60 million Americans experience heartburn at least once a month. Furthermore, some studies suggest that more than 15 million Americans experience heartburn symptomseach day.That's why we created Heartburn: Our Heartburn product not only provides fast-acting protection, but also works overtime to soothe the GI tract and prevent acid reflux from occurring in the first place.* 
Our all-natural, filler-free capsules workfor you,so you can get back to enjoying food while leaving heartburn behind. 
So, what is Heartburn made of? 
GutGard:Our superstar ingredient, GutGard is a clinically studied and heavily researched bioactive extract of licorice root. It's proven to: 
Improves Indigestion by 65%

A randomized, double-blind, placebo controlled study showed that Gutgard is beneficial for occasional indigestion. In the study, 25 subjects received 75mg Gutgard while the other 25 received placebo, each twice daily with water after food for 30 days. Subjects were assessed on the severity of upper abdominal complaints and quality of life (QOL). After days 15 and 30, Gutgard showed a 51% reduction in total symptoms score compared to placebo (29%) and 56% of subjects in the Gutgard group showed a marked improvement compared to placebo (0%). 

Preserves a Balanced Microbiome 

Having a healthy and flourishing gut microbiome (see this blog post for more!) can make a 

huge 

difference when it comes to our gut and overall health. The gut microbiota contribute to nutrient breakdown and absorption, help to keep pathogens out of the body, and influence our immune system. GutGard has been shown to balance the gut microbiota by inhibiting pathogenic bacteria without affecting beneficial bacteria. 

Improves Gut Health 

Gutgard improves gut health by affecting gastric emptying and regulating bowel movements. Delayed gastric emptying is known to cause functional dyspepsia, leading to upper abdominal discomfort. GutGard showed an 86% gastric emptying rate compared to the control group, which only showed a 53%. It's known that a faster emptying of the stomach and GI tract can help to alleviate discomfort and regulate bowel motility. 
Alginic Acid: Alginic acid forms a protective foam layer that floats on top of the contents of the stomach. This mechanismstops stomach acid escaping into the esophagus, thereby preventing acid reflux.
Marshmallow Root:Marshmallow root is known as a demulcent herb, meaning it works by decreasing inflammation and forming a mucus barrier against irritants such as stomach acid. This mucus lining prevents acid from touching the sensitive esophageal lining, thereby aiding in soothing the lining of the GI tract. 
Glycine:Glycine is an essential amino acid with protective properties beneficial for intestinal health by reducing toxins and inflammatory molecules. Glycine provides relief by neutralizing acid and promoting tissue repair, soothing the gut mucosa, and improving nutrient absorption and successful digestion. 
Aloe Vera:Aloe vera forms a mucilage, or a sap-like substance, that coats mucous membranes and provides protection for areas of the body, including the esophagus. Additionally, aloe vera juice may promote healing of the gastrointestinal tract lining. 
Zinc Carnosine: Zinc carnosine is a compound of zinc and carnosine in a 1:1 combination, with carnosine enhancing zinc absorption. Research has proven zinc carnosine to be beneficial in preventing and treating gastric mucosal injury due to its cytoprotective, anti-inflammatory, and antioxidant activity. 
Traditional Antacid Brands vs. Heartburn by Arrae 
There are so many pharmaceutical drugs that are commonly used to treat digestive disorders. However, we know that these drugs work as a "band-aid" solution, so we created Heartburn to both prevent and treat heartburn. 
Antacids, H2 blockers, and PPIs all treat heartburn, GERD, and peptic ulcers. Antacids work to neutralize stomach acids; however, their effectiveness is short lived and can raise the stomach pH too high, stimulating the release of more stomach acid. Overuse side effects can include increased thirst, nausea, vomiting, and severe headache. 
H2 blockers work by blocking the action of histamine in the stomach cells. Long-term use or dependency can lead to constipation, diarrhea, insomnia, and an increased risk of infections. 
PPIs, or proton pump inhibitors, block the gastric proton pump system in stomach cells. PPIs are typically prescribed for 7-14 days to treat peptic ulcers and GERD. Once the course is discontinued, stomach acid production surges once again. Rebound symptoms are often more severe, creating a vicious cycle of medication dependency and potential nutrient depletion. The most common side effects reported include headache, diarrhea, nausea, and vomiting. Serious side effects as a result of long-term use can include kidney disease and vitamin deficiencies. 
Heartburn by Arrae: 
Heartburn works to prevent and reduce heartburn, acid reflux, and indigestion without the common and potentially dangerous side effects. Heartburn works within an hour for fast-acting protection, coats the esophagus to provide a barrier for stomach acid, and repairs and protects the lining of the gastrointestinal tract. Heartburn will leave you feeling heartburn-free, without creating a life-long dependency cycle. Simply take 3 capsules daily with a full glass of for optimal results and get back to feeling your best! 
Disclaimer
: This blog post is purely informational and does not imply any evaluation by the Food and Drug Administration. This blog post is not intended to diagnose, treat, cure, or prevent diseases, nor should it substitute for advice from a healthcare professional.