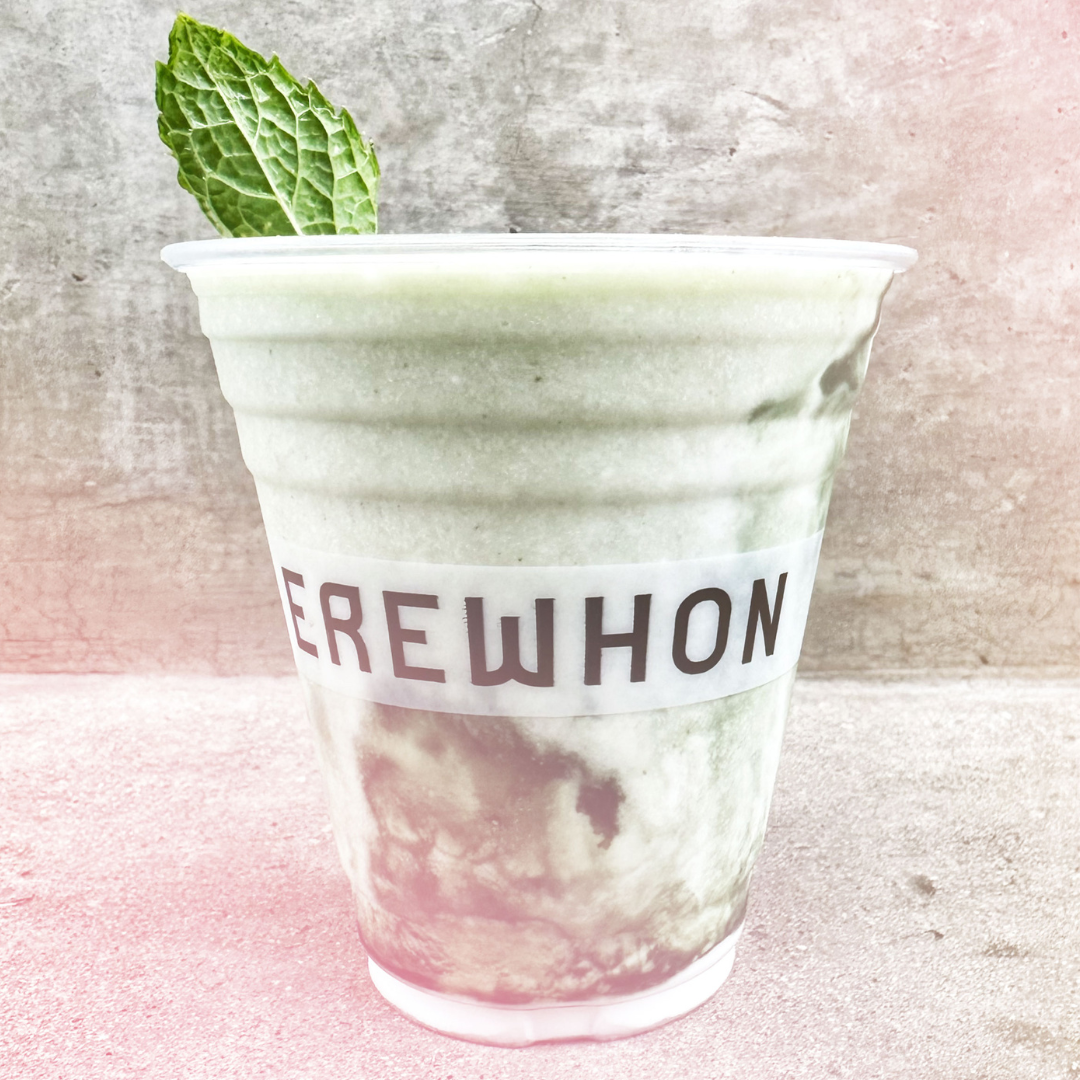 For the month of June, we collaborated with Erewhon to create the "Cocojito" smoothie! There are only a couple more weeks to indulge in this refreshing treat that will transport you to a tropical paradise. So LA friends, we have three words for you: run, don't walk. Imagine sipping on a minty mocktail with citrusy notes and a velvety texture, all while nourishing your gut health and banishing bloating. It's a win-win!
Before we dive into the delightful ingredients of this smoothie, let's quickly recap what bloating entails. Bloating can feel like you're uncomfortably full, look like a distended abdomen, and cause you to want to go home and unbutton your pants. We've all been there and it's not fun. Bloating can occur for various reasons, such as poor digestion, constipation, hormonal imbalances, and stress. Here's the good news: our smoothie at Erewhon was intentionally crafted to reduce bloating!
Now, let's break down this smoothie's ingredients (organic, gluten-free, and dairy-free of course!) that will make your digestion oh so easy.
Arrae Bloat Alchemy Capsules 
First and foremost, you already know that an Arrae debloating smoothie must contain the formula of our best-selling Bloat product. The capsules contain a special blend of ginger root, dandelion root, bromelain, slippery elm, lemon balm, and peppermint. These ingredients work synergistically to alleviate gas, bloating, and abdominal discomfort after meals. Each one plays a unique role in breaking down food, facilitating its movement through the gastrointestinal tract, releasing trapped gas, and reducing inflammation.
Vanilla Collagen 
Vanilla Collagen not only enhances the smoothie's taste but also promotes a healthy gut lining. It contains essential amino acids like glutamine and glycine that target the gut lining and help repair it by filling in the "gaps'' that can occur as a result of an inflammatory diet, chronic stress, and gut dysbiosis.  When left untreated, these gaps in our gut lining contribute to the condition known as "Leaky Gut" which often involves the symptom of chronic bloating (1). By consuming collagen regularly, you may experience improvements in food sensitivities, inflammation, and bloating over time. 
Organic Coconut Meat, Water & Cream
Coconut meat adds a sweet, nutty flavor to the smoothie while providing a good dose of fiber (7 grams in one cup). Fiber is crucial for gut health as it serves as food for beneficial gut bacteria and aids in stool bulking, facilitating regular bowel movements (2). Coconut water is a good source of natural electrolytes with magnesium, potassium, and sodium which not only help with overall hydration but help bring hydration to the gut to help get things moving! Meanwhile, coconut cream, a thicker version of coconut milk, imparts a creamy texture to the smoothie. It contains Medium Chain Triglycerides (MCTs), which are easily digestible, various vitamins and minerals, and electrolytes that contribute to hydration and may alleviate constipation. Plus some studies have shown that MCTs have antibacterial and antifungal properties, which may help keep the gut microbiome balanced (3). 
Chlorophyll 
The tropical green color of our smoothie is courtesy of chlorophyll, which not only makes for an Instagrammable smoothie but also offers gut-healthy benefits. Chlorophyll gives plants their green color and is packed with vitamins, minerals, and antioxidants with anti-inflammatory properties. Thanks to its magnesium content, chlorophyll can promote regularity. Moreover, research suggests that it supports the gut microbiome by increasing beneficial species like Akkermansia, an essential player in the gut microbiome associated with a reduced risk of gastrointestinal diseases (4). 
Organic Mint Leaf
While mint is known for its refreshing taste, it also plays a role in relieving indigestion and abdominal discomfort as demonstrated by a metaanalysis that looked at the role of peppermint in relieving symptoms associated Irritable Bowel Syndrome (IBS) . Specifically, studies have shown that mint, specifically peppermint, helps to relax the muscles of the gastrointestinal tract, aiding in the movement of food and the release of trapped gas (5). Additionally, the aroma of mint may help reduce anxiety and stress, contributing to improved digestion (6).
Organic Lime 
Lime's bitter flavor and flavonoid content stimulates the body to produce and secrete digestive enzymes, stomach acid, and bile which are key players in digestion and breaking down food adequately to prevent bloating. Limes also contain a high vitamin C content which supports the body's natural detoxification process. 
Organic Banana 
Last but not least, our smoothie has a banana to contribute to its creamy texture. Plus, bananas have prebiotics, specifically inulin, which nourishes gut bacteria and promotes regular bowel movements. 
Our Cocojito smoothie is available throughout the month of June at Erewhon. Make sure to grab this refreshing and debloating smoothie before it's gone!
(This article was written by Alison Richman who has a Masters in Nutrition and is completing her 1200 hour Dietetic Internship.)
Sources: 
(1). Deters, Brett J., and Mir Saleem. "The role of glutamine in supporting gut health and neuropsychiatric factors." Food Science and Human Wellness 10.2 (2021): 149-154.
(2). Slavin, Joanne. "Fiber and prebiotics: mechanisms and health benefits." Nutrients vol. 5,4 1417-35. 22 Apr. 2013, doi:10.3390/nu5041417 
(3). Shilling, Michael et al. "Antimicrobial effects of virgin coconut oil and its medium-chain fatty acids on Clostridium difficile." Journal of medicinal food vol. 16,12 (2013): 1079-85. doi:10.1089/jmf.2012.0303
(4). Rodrigues, Vanessa Fernandes et al. "Akkermansia muciniphila and Gut Immune System: A Good Friendship That Attenuates Inflammatory Bowel Disease, Obesity, and Diabetes." Frontiers in immunology vol. 13 934695. 7 Jul. 2022, doi:10.3389/fimmu.2022.934695 
(5). Khanna, Reena et al. "Peppermint oil for the treatment of irritable bowel syndrome: a systematic review and meta-analysis." Journal of clinical gastroenterology vol. 48,6 (2014): 505-12. doi:10.1097/MCG.0b013e3182a88357