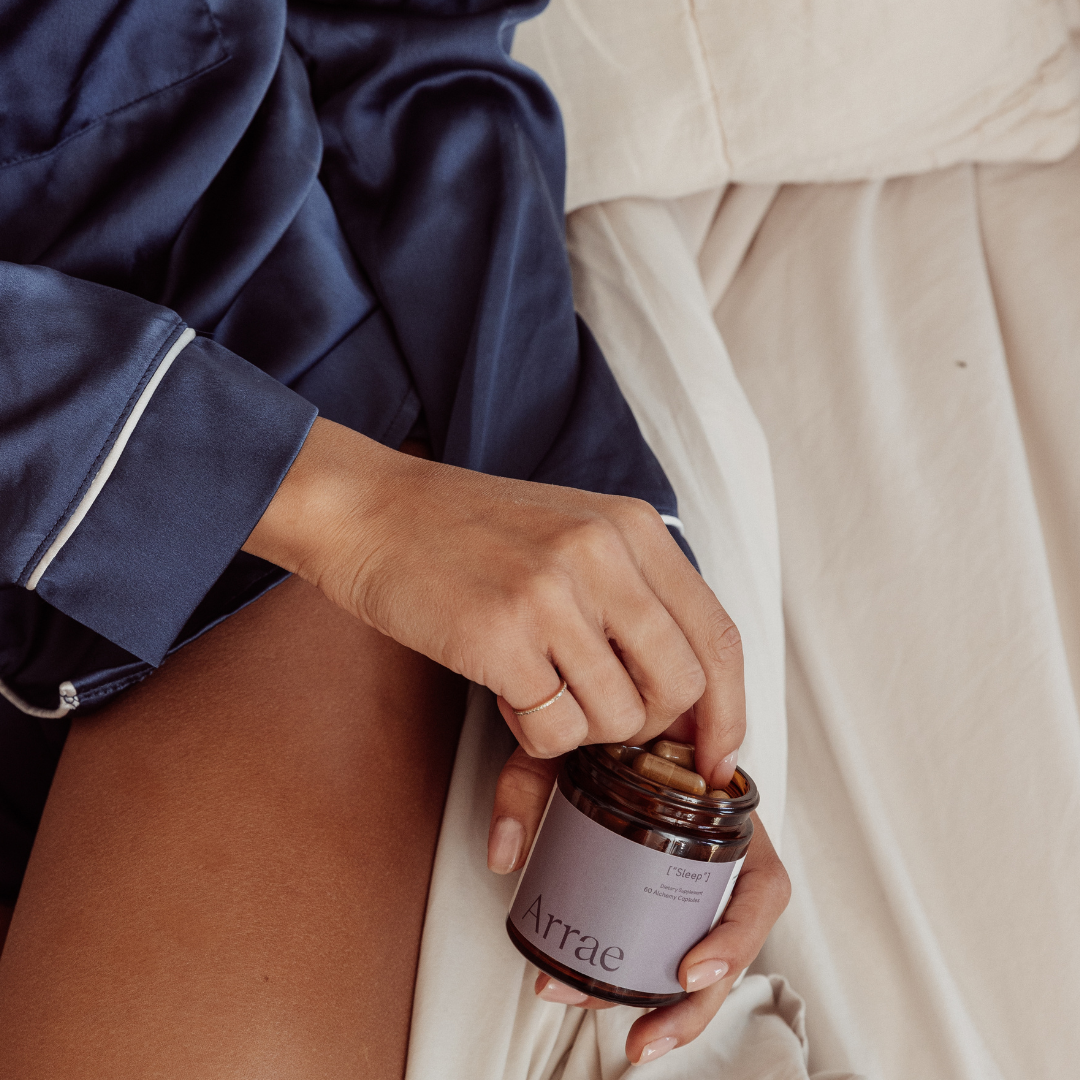 It's often said that the bedroom is for two things: sleep and sex. While the pandemic led us to adapt our bedrooms into offices, dining rooms, home gyms, and meditation spaces, the innate, human need for both sleep and sex persists. Capitalizing on both sleep hygiene and sexual health has major positive health implications; they both involve the mind and the body and are bidirectional, meaning they compound on one another. Most of us know the *bleh* feelings of a bad night's sleep, and even thinking about adding in intimacy…forget about it! However, if we're constantly sleeping poorly, our sexual health will suffer, too. Keep reading to learn about the relationship between sleep and sex, the elements we should strive to include in both routines, and steps to enhance both sleep and sex. 
Though it may be taboo, sex is an integral part of adult wellness. Sex is physical (of course!), but it also helps us connect with our partners, deepen our relationships, and have a higher quality of life. Sleep is essential to our overall well being: it aids in our emotional regulation, concentration, the way we show up for ourselves, and the interactions we have with others. Being that sleep is woven into everything we do, a night of tossing and turning can have major implications for our emotional, physical, mental, and sexual health. Recognizing the connections between sleep and sex can create opportunities for enhancing both of these important contributors to our health. Keep reading to learn the elements of both healthy sleep and sex, the bidirectional relationship between the two, and actionable takeaways to have the best sleep and sex possible.
The Elements of Health Sleep and Sex  
Sleep: Sleep is vital to help us recoup, to give our brains rest, and to give our bodies a physical reprieve from the previous day. A good night's sleep is the calm bridge between two days, and is the only part of the day when we can choose to rest for hours of uninterrupted time. Sleeping well requires getting a sufficient amount of sleep, which tends to be between seven and nine hours for most adults. Sleep quality is also crucial; a typical night's sleep is composed of several sleep cycles, each of which is broken down into sleep stages. Continuous, restorative sleep allows these stages to naturally unfold properly, enabling us to actually be able to get out of bed feeling refreshed the next day. Check out our other sleep blogs to learn more about the specifics of catching some Zs. 
Sex: Much like sleep, sex is made up of several different elements. There are four stages of sex: 
Desire for sex, aka libido

Excitement or arousal, which involves physical reactions

Orgasm, climax, or simply known as the point of maximum excitement 

Resolution, which involves relaxation and positive feelings as well as a gradual transition to a non-excited state 
When one or more of these stages is disrupted, sexual problems, or sexual dysfunction, can arise. A 2020 study estimated that around 33% of men and 45% of women experienced at least mild sexual problems in the last year. Furthermore, the same study showed that 13% of men and 17% of women had more serious issues that caused them distress. Sexual health problems can be physical, but it's important to note that these can also be tied to mental and emotional health as well. 
Sex and sleep are tightly intertwined, meaning that there are various ways to heighten both sleepandsex quality. There's no doubt that sexual problems can be frustrating and emotionally draining, and may require medical attention depending on severity. But, if you're feeling like these problems may stem from constantly feeling tired, stressed, or other negatives that come with a lack of sleep, working on sleep hygiene is a great first step in conquering your sexual health. 
How Does Sleep Affect Sex?
Our body's biological clock, or Circadian Rhythm, is responsible for our sleep and wake cycle and the hormones we release when we get adequate, or not enough, sleep. Like we've touched on, routines are necessary for creating balance and homeostasis within the body, telling our innate clock when it's time to wake, rest, amp up on stress hormones, or, even exercise. When our sleep health suffers, the rest of our body does, too. 
Sleeping just one hour more each night makes a person 14% more likely to engage in sex with a partner the next day. Whether this means winding down an hour before our usual time or treating ourselves to sleeping in on a Saturday, an extra hour is surely worth the benefits. 
Sleep disorders also negatively impact sexual activity. This includes insomnia, one of the most common sleep disorders in women and a major reason why we formulated Sleep. A lack of sleep can directly decrease sexual desire and arousal; after all, most of us aren't jumping into bed to "set the mood" with our partner when we're exhausted. Additionally, the feelings of depression and anxiety that often follow a night or period of poor sleep can lead to sexual dysfunction. Again, when we're feeling emotionally low, many of us would prefer to cuddle or eat our favorite ice cream over taking off our clothes and getting in the mood. Lastly, sleep deprivation may also increase feelings of dissatisfaction with our sex lives; we're more likely to ruminate and catastrophize everything (including sex!) when our brain is running on low battery. 
How Does Sex Affect Sleep?
Research shows that sex, as long as it accomplishes orgasm, is associated with about a 70 percent increase in reported sleep quality that following night. Following sexual climax, the body releases hormones, like oxytocin and prolactin, that promote feelings of satisfaction and happiness. Simultaneously, the production of cortisol – also termed the "stress hormone" – that induces alertness and excitement decreases following orgasm. This combination of hormonal processes leads to the relaxing feeling that comes after sex, making us feel tired and ready for sleep. We can't sleep when our sympathetic nervous system is "on". Sex, in turn, stimulates the parasympathetic nervous system, making drifting off come on much easier. 
But, it gets even better. Not all of us are with, or desire to be with, a partner. Research shows that the sleepy feeling that follows orgasm is not limited to sex with a partner; masturbation helps, too! As long as it's associated with orgasm, masturbation produces a 47 percent increase in sleep quality and decreases the speed at which we fall asleep by about 50 percent. We've now added another benefit to our sexual self care that will ultimately help us in more ways than one. 
How to Enhance Both Sleep and Sex 
The bidirectional nature of sleep and sex creates an opportunity to improve both of them, thereby increasing our overall health and well being. 
Improving Sleep
We have many blogs, likethis one, that go deep into the specifics of creating space in our daily routines for adequate sleep duration and quality. Sleep hygiene is a critical aspect of quality sleep, as it incorporates both the sleep environment and daily habits that influence sleep. Below are some actionable tips, in case we need a few reminders. After all, getting a good night's sleep is not always easy, but it's always important! 
Make the Bedroom Inviting: Yes, this includes making the mood right for sex, but also for quality sleep. Set the bedroom to a comfortable temperature, use dim and warm lighting, and make sure your mattress is comfortable and supportive for sleep and … other activities. 
Maintain a Sleep Schedule: This can be difficult to do if every day looks different. But, having a consistent sleep schedule will benefit the hormones responsible for the sleep and wake cycle and those in charge of dictating our mood when it comes to sex. The goal is to sleep and wake up at the same time each day, even on the weekends. 
Partake in Pleasurable Movement: Getting exposure to sunlight first thing in the morning strengthens our sleep / wake cycle and makes it easier for us to wake up that morning and go to bed that same night. Finding time for physical activity also helps our bodies regulate hormones, produces endorphins (or "feel good" hormones), and helps improve our sleep. Movement can include walking, lifting weights, and well, sex! 
Improving Sexual Health 
Improving our sexual health, including having regular, satisfying sex, with ourselves or with a partner, can boost our wellness and lead to better sleep. As with sleep problems, please consult a doctor about any concerns about sexual health or dysfunction. It may feel intimidating, but we now know that our sexual health affects various facets of life and should be taken seriously by us and our medical providers. 
Sexual health can include a range of aspects, including some more far-reaching ones. It's important to create a judgment-free space in our relationship with ourselves and with a partner that helps our sexual health thrive. This may include addressing issues with performance or satisfaction, reviewing ways to practice safe sex, and getting regularly tested for STIs. For some, sex therapy can be a great way to incorporate valid, evidence-based approaches for cultivating a rewarding sex life. 
Getting enough sleep – in quality and duration – will boost our sex lives. In turn, we'll feel refreshed, less stressed, and bask in that post-sex glow. The relationship between sleep and sex is bidirectional; when one improves, the other does, too. Try implementing one or two sleep-promoting tips, (including having more sex!) to reap the many benefits of a good night's sleep. 
References: 
"The Relationship between Sex and Sleep."Sleep Foundation, 8 Feb. 2023, https://www.sleepfoundation.org/physical-health/sex-sleep. 
Briken, Peer et al. "Estimating the Prevalence of Sexual Dysfunction Using the New ICD-11 Guidelines."Deutsches Ärzteblatt International, Vol. 117,39 (2020): 653-658. doi:10.3238/arztebl.2020.0653
Ferriss, Tim. "Dr. Matthew Walker, All Things Sleep Continued - the Hidden Dangers of Melatonin, Tools for Insomnia, Enhancing Learning and Sleep Spindles, the Upsides of Sleep Divorce, How Sleep Impacts Sex (and Vice Versa), Adventures in Lucid Dreaming, the One Clock to Rule Them All, the IP Addresses of Your Memories, and More (#654)."The Blog of Author Tim Ferriss, 11 Feb. 2023, https://tim.blog/2023/02/08/dr-matthew-walker/.